In a state of ketosis, your body switches from depending on carbohydrates for energy to burning fats for fuel. When the body metabolizes fat, it generates molecules called ketones. Ketone testing strips are used to measure the levels of these ketone bodies in our urine.
Our keto strips are a quick and reliable way to know if you`re in ketosis.
Know your body on the ketogenic diet. It can be hard to keep your body in a state of ketosis. Keto Strips help you discover what kicks you out of ketosis and how long it takes to get back into it. So you can perfect your ketogenic lifestyle and see the results you`re looking for.
Note: If you've been fat-adapted for a while, you may not secrete ketones and these strips may show a low amount.
Product Description
Urine ketone results change if you stay on a keto diet for several weeks because your metabolism changes.
During prolonged starvation, the body undergoes a profound shift from running mostly on glucose to reliance on fat-based fuel sources: ketones and fatty acids. The ketogenic diet mimics this [keto-adapted" metabolism of starvation. In the first few days on a ketogenic diet, you begin producing ketones, some of which are excreted in the urine.
Color changes on your Urine Ketone Strips show that you are in ketosis (if not, you may need to make some adjustments in order to get into ketosis, e.g. further reduce intake of carbohydrates, increase fat intake, exercise more, fast, or take exogenous ketones).
As you continue on the diet, you become more adapted or accustomed to making and burning ketones. More ketones are reabsorbed and used for energy, and fewer ketones overflow into the urine.After several weeks, as ketone levels rise, evidence suggests your muscles shift to burning fatty acids directly while burning fewer ketones. In this way, ketones are spared for use by other tissues, particularly the brain (which does not burn fatty acids for fuel).
Reaction principle
The acetoactate and nitroprusside cause reaction in alkaline medium,which produces purplish red compounds.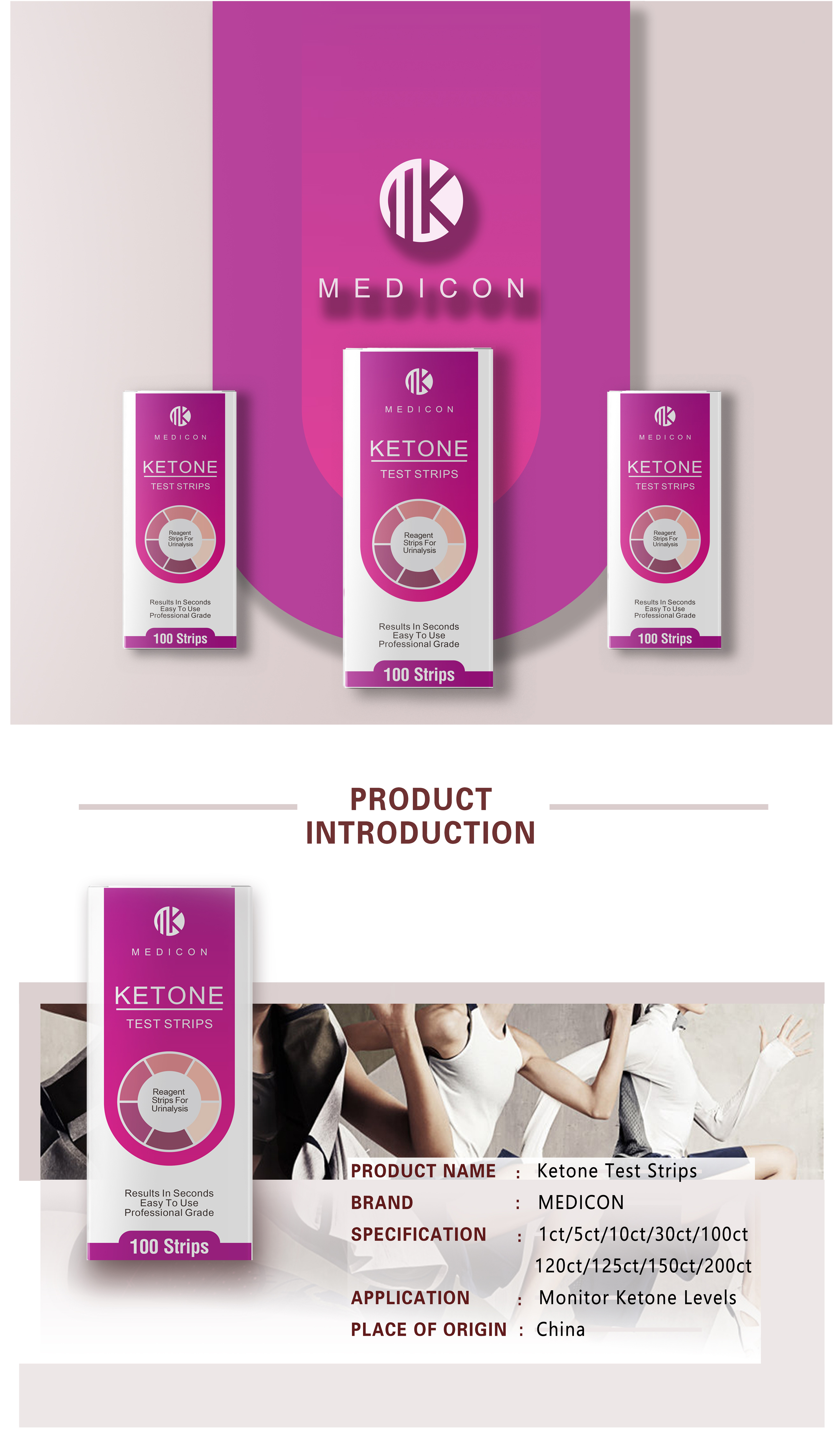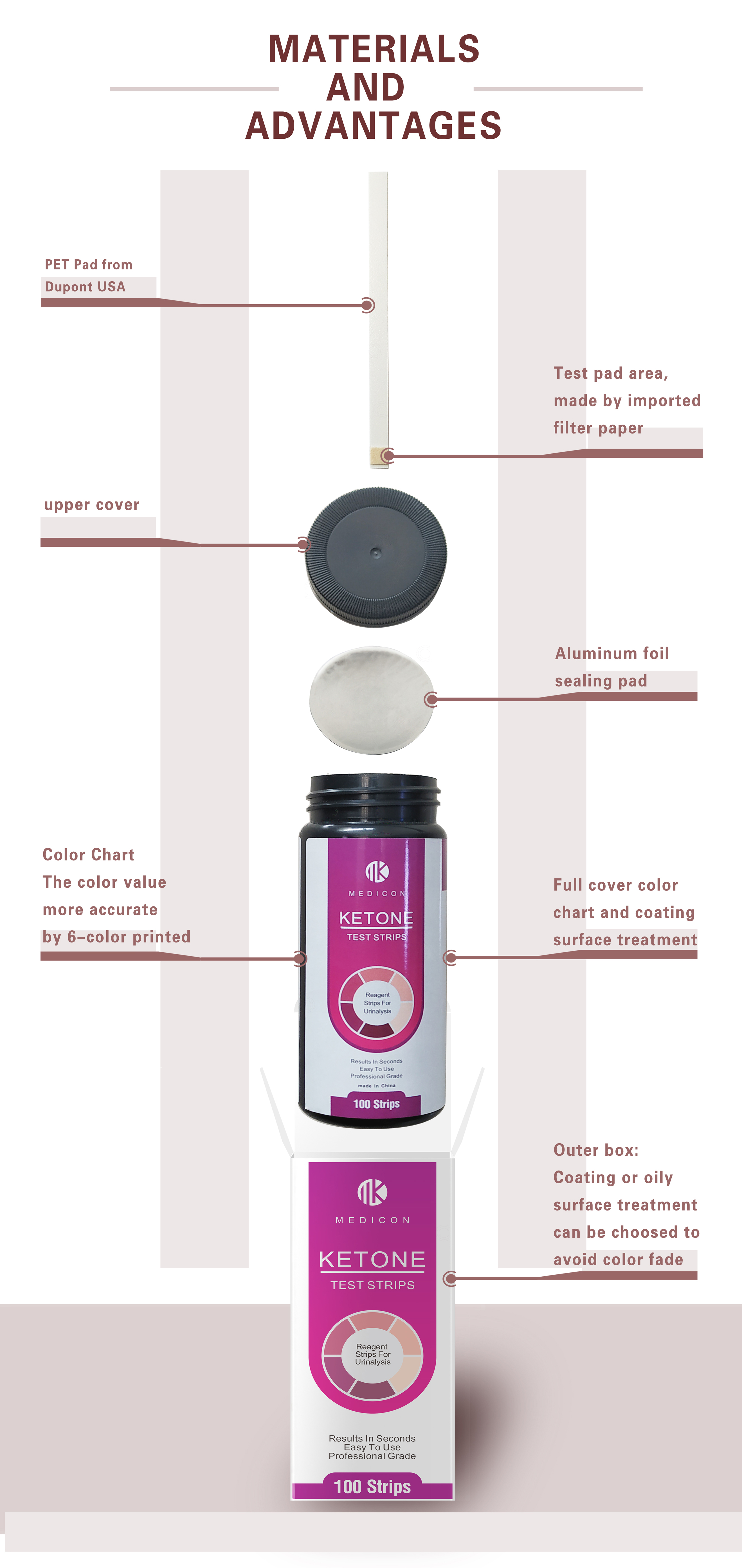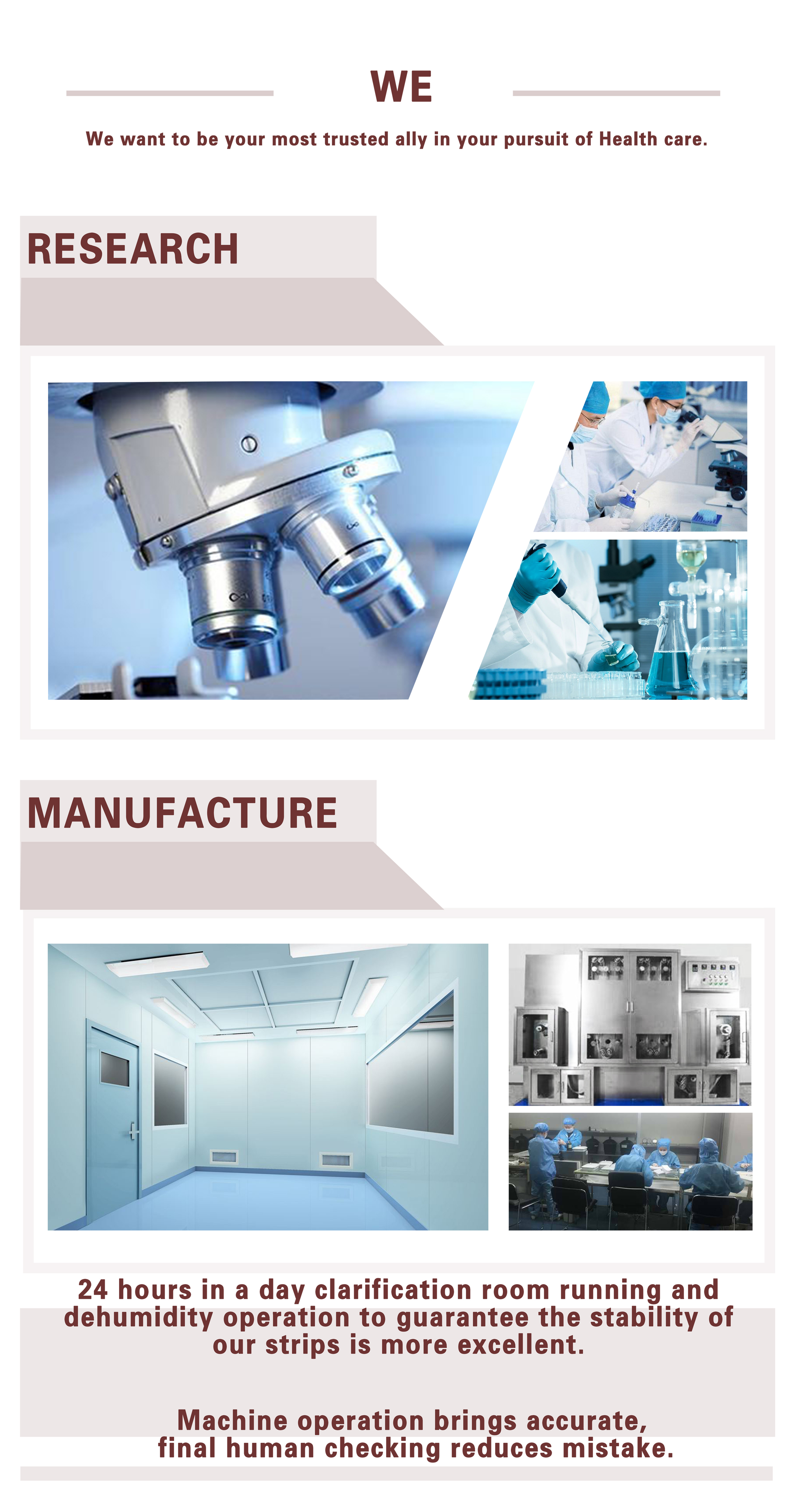 What do my results mean after testing by Ketone Urine Test Strips?
You can measure ketones at any time of the day.However, ketone levels tend to vary,being highest in the morning and right after dinner.It is also best to avoid measuring your ketone levels right after exercise because the numbers you would get then won`t represent your mean ketone levels.Being dehydrated,over-hydrated,and taking certain medication(Mesna) can lead to inaccurate results,especially with urine ketone strips.
While individual testing may vary, in general,results for ketone testing are labeled in the following way:
| | |
| --- | --- |
| normal/negative | less than 0.5 millionles per liter(mmol/L) |
| low to moderate | 0.6 to 1.5 mmol/L |
| high | 1.6 to 4.0 mmol/L |
| very high | greater than 4.0 mmol/L |
Certificate: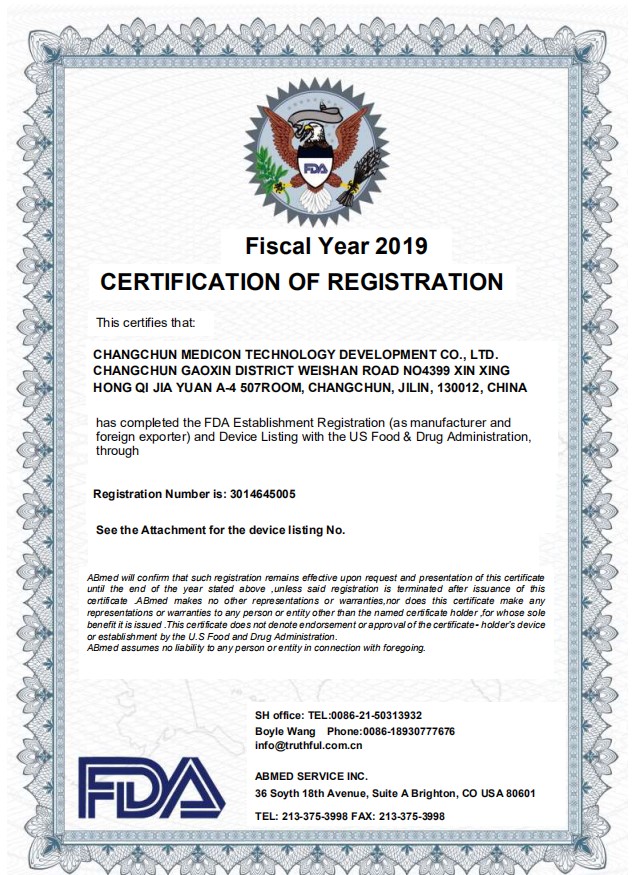 Shipping and Packing of our urine Ketone Test Strips: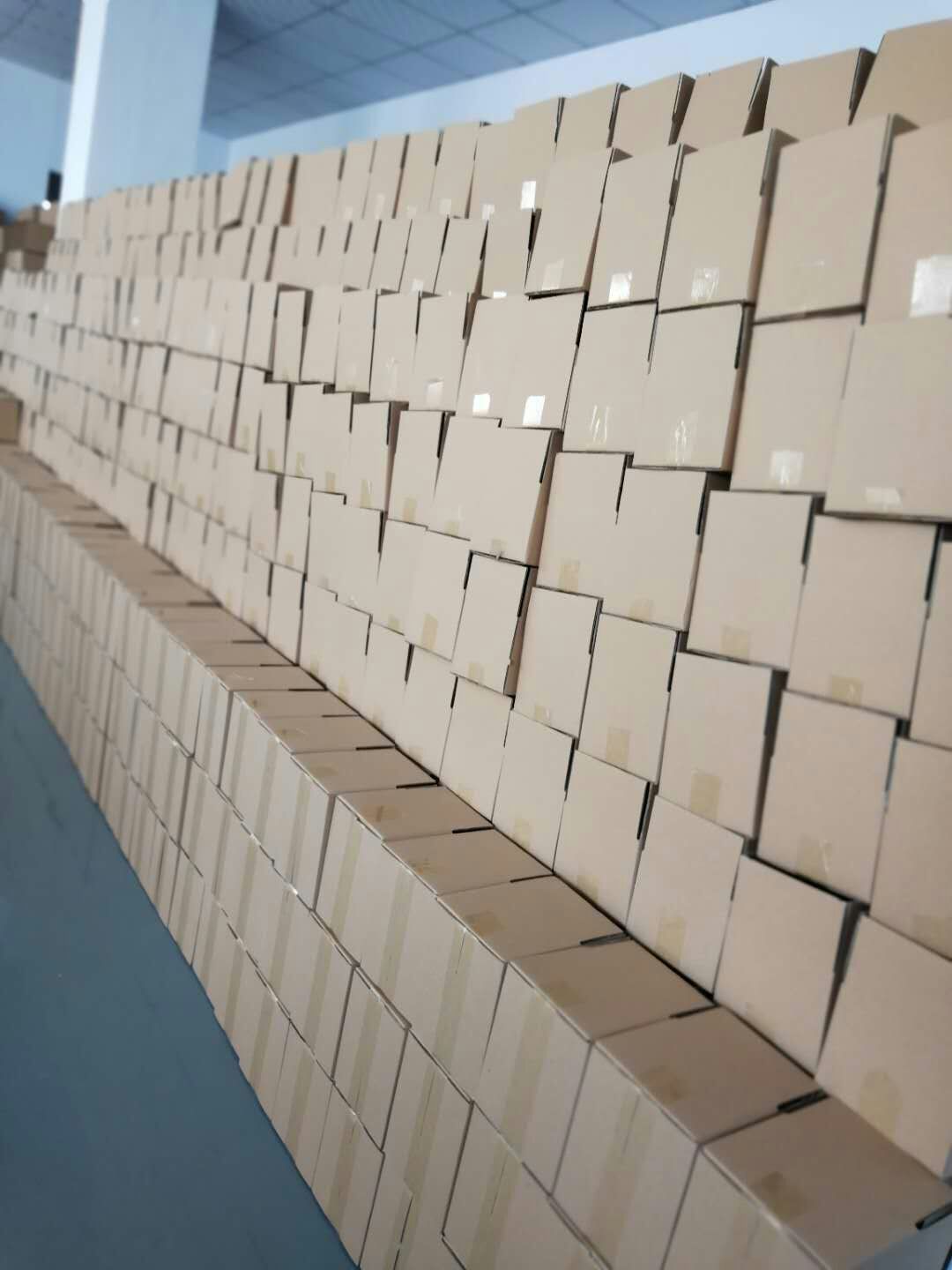 About company:
We are a professional manufacturer of medical Urine Test Strips,Urine Analyzer,blood testing machine, medical devices, especially the Urine Test strips are core product, including leukocytes,nitrite,urobilinogen,protein,pH,blood,specific gravity,ketone,bilirubin,glucose,micro albumin,Calcium and Creatinine.All of have competitive price as well as good quality, We have been the faithful supplier on Amazon in USA and some customers in different countries,such as French,India,Indonesia,and South Africa.
Our OEM capacity for Urine Test Strip Ketone Test Paper:
OEM packing can be provided by us.We not only provide OEM serice,but also technical support.
More than 25 years research and development experiences for our Chief engineer.R&D team average have more than 5 years working experience.
All urine products: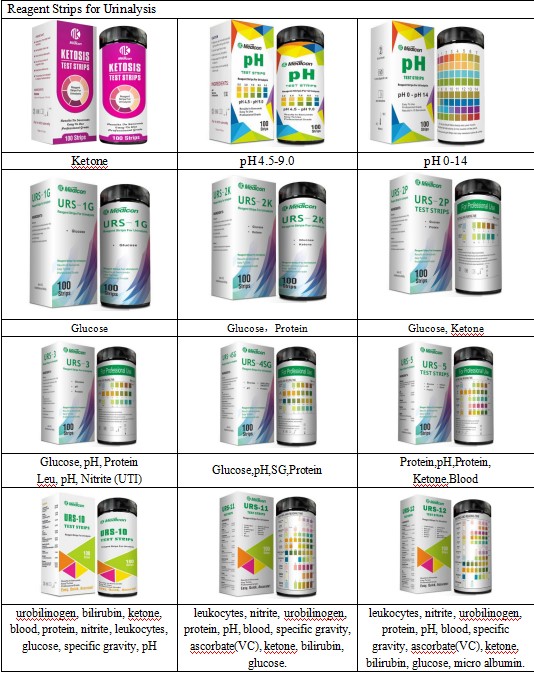 Looking for ideal High-quality Ketone Urine Strips Manufacturer & supplier ? We have a wide selection at great prices to help you get creative. All the Ketone Urine Strips are quality guaranteed. We are China Origin Factory of Doctor Developed Ketone Urine Strips. If you have any question, please feel free to contact us.
Product Categories : Clinical Analytical Instruments > Urine Reagent Test Strips