Product Introduction
Glucose: The glucose reagent panel is specific for glucose; no substance other than glucose is known to give a positive result.
The reactivity of the glucose test decreases as the Specific Gravity of the urine increases. Reactivity may also vary with temperature.
Small amounts of glucose may normally be excreted by the kidneys, these amounts are usually below the sensitivity range of this test but on occasion may produce a color between the 'Negative' and the 100/5 color block and may be interpreted by the observer as positive.
Ketones: This test reacts with acetoacetic acid in urine. It does not react with acetone or b‑hydroxybutyric acid.
Some high specific gravity/low pH urines may give reactions up to and including 'Trace'.
Normal urine specimens usually yield negative results with this reagent.
False positive results (trace or less) may occur with high pigmented urine specimens or those containing large amounts of levodopa metabolites.
Blood: The significance of the 'Trace' reaction may vary among patients, and clinical judgment is required for assessment in an individual case.
Development of green spots (intact erythrocytes) or a green color (free hemoglobin / myoglobin) on the reagent area within 60 seconds indicates the need for further investigation.
Blood is often found in the urine of menstruating females. This test is highly sensitive to hemoglobin and thus compliments the microscopic examination.
pH: The Ph Test area measures pH values generally within 1 unit in the range of 5 8.5 visually and 5 9 instrumentally with 5 being very acidic and 8.5 being highly alkaline. Generally, urine pH results range from 5.5 - 7.5 in a bell curve type statistical distribution.
Average for normal human urine is slightly acidic 6.0, however deviations from normal in any given sample are unremarkable and consistent, repeated readings are required in the top or bottom range to suggest an abnormality.
High protein diets increase acidity. Vegetarian diets increase alkalinity.
Bacterial infections also increase alkalinity producing a urine pH in the higher 7-8 range.
Protein: The reagent area is more sensitive to albumin than to globulins, hemoglobin, and mucoprotein. a 'Negative' result does not rule out the presence of other proteins.
Normally no protein is detectable in urine by conventional methods, although a minute amount is excreted by the normal kidney.
A color matching any block greater than 'Trace' indicates significant proteinuria.
For urine of high specific gravity, the test area may most closely match the 'Trace' color block even though only normal concentrations of protein are present.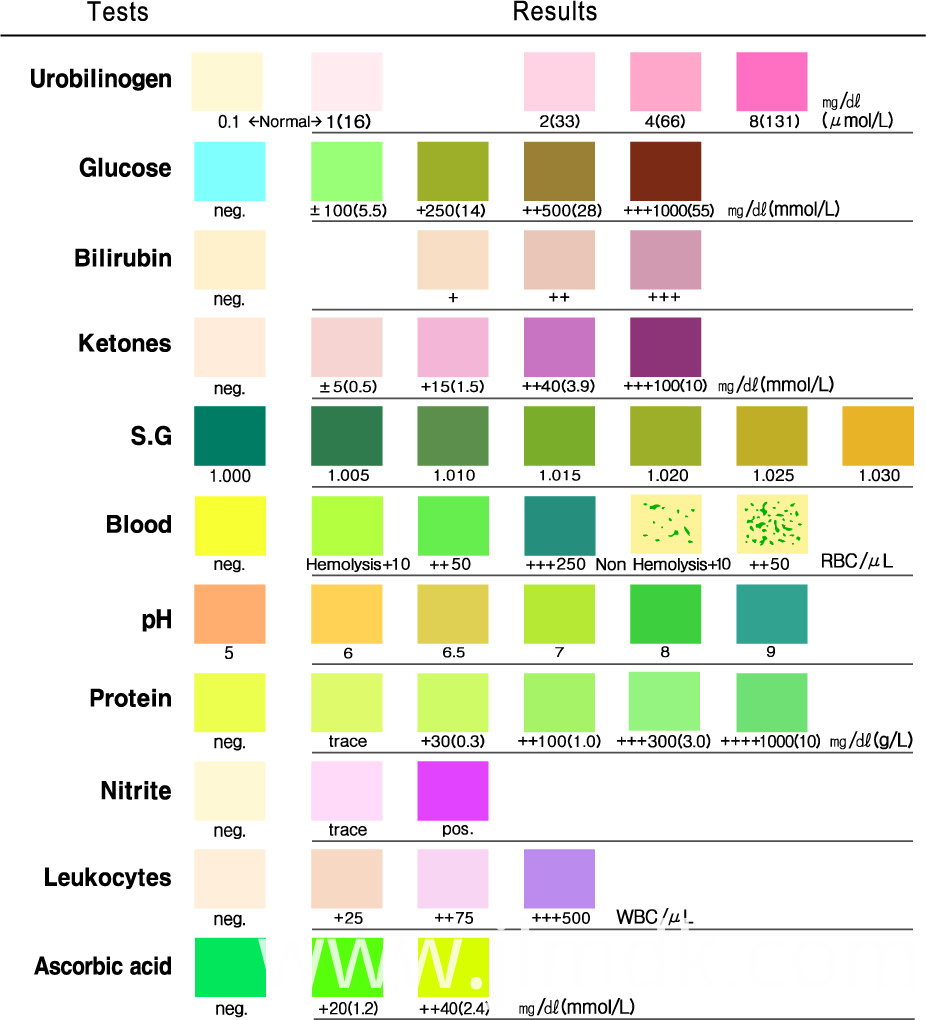 Nitrate: This test depends upon the conversion of nitrate (derived from the diet) to nitrite by the action of principally gram negative bacteria in the urine.
The test is specific for nitrite and will not react with any other substance normally excreted in urine.
Pink spots or pink edges should not be interpreted as a positive result.
Leucocytes: Normal urine specimens generally yield negative results; positive results of small (+) or greater are clinically significant.
Individually observed 'Trace' results may be of questionable clinical significance; however, 'Trace' results observed repeatedly may be clinically significant.
'Positive' results may occasionally be found with random specimens from females due to contamination of the specimen by vaginal discharge
Urobilinogen This test area will detect urobilinogen in concentrations as low as 3 mIU/L in urine.
The reagent area may react with substances known to interfere with Ehrlich's reagent, such as p‑aminosalicylic acid and sulphonamides.
Atypical color reactions may be obtained in the presence of high concentrations of p‑aminobenzoic.
Specific Gravity: The specific gravity test permits the determination of urine specific gravity between 1.000 and 1.030.
In general, it correlates within 0.005 with values obtained with the refractive index method.
For increased accuracy, 0.005 maybe added to readings from urine with pH equal to or greater than 6.5.
Bilirubin: Normally no bilirubin is detected in urine by even the most sensitive methods.
Even trace amounts of bilirubin are sufficiently abnormal to require further investigation.
Ascorbic Acid: The presence of ascorbic acid causes the color of the test field to change from gray-blue to yellow.
Atypical result colors may indicate bile pigment abnormalities and the urine specimen should be tested further by more quantitative laboratory means.
Product Parameter
| | | | |
| --- | --- | --- | --- |
| Items | Sensitvity | Analyzer Range | Visual Range |
| Leukocytes | 5-15 | Neg.-500 | Neg.-500 |
| Nitrites | 13-22 | Neg.-Pos | Neg.-Pos |
| Urobilinogen | 3.2-16 | 3.4-135 | 3.4-135 |
| Protein | 0.15-0.3 | Neg.-20.0 | Neg.-20.0 |
| PH | | 5.0-8.5 | 5.0-8.5 |
| Blood | 5-15 | Neg.-200 | Neg.-200 |
| Specific Gratity | | 1.000-1.030 | 1.000-1.030 |
| Ascorbic Acid | 0.5-.6 | 0-6.0 | 0-6.0 |
| Ketone | 0.5-1.0 | Neg.-16 | Neg.-16 |
| Bilirubin | 8.6-17 | Neg.-100 | Neg.-100 |
| Glucose | 2.8-5.5 | Neg.-55 | Neg.-55 |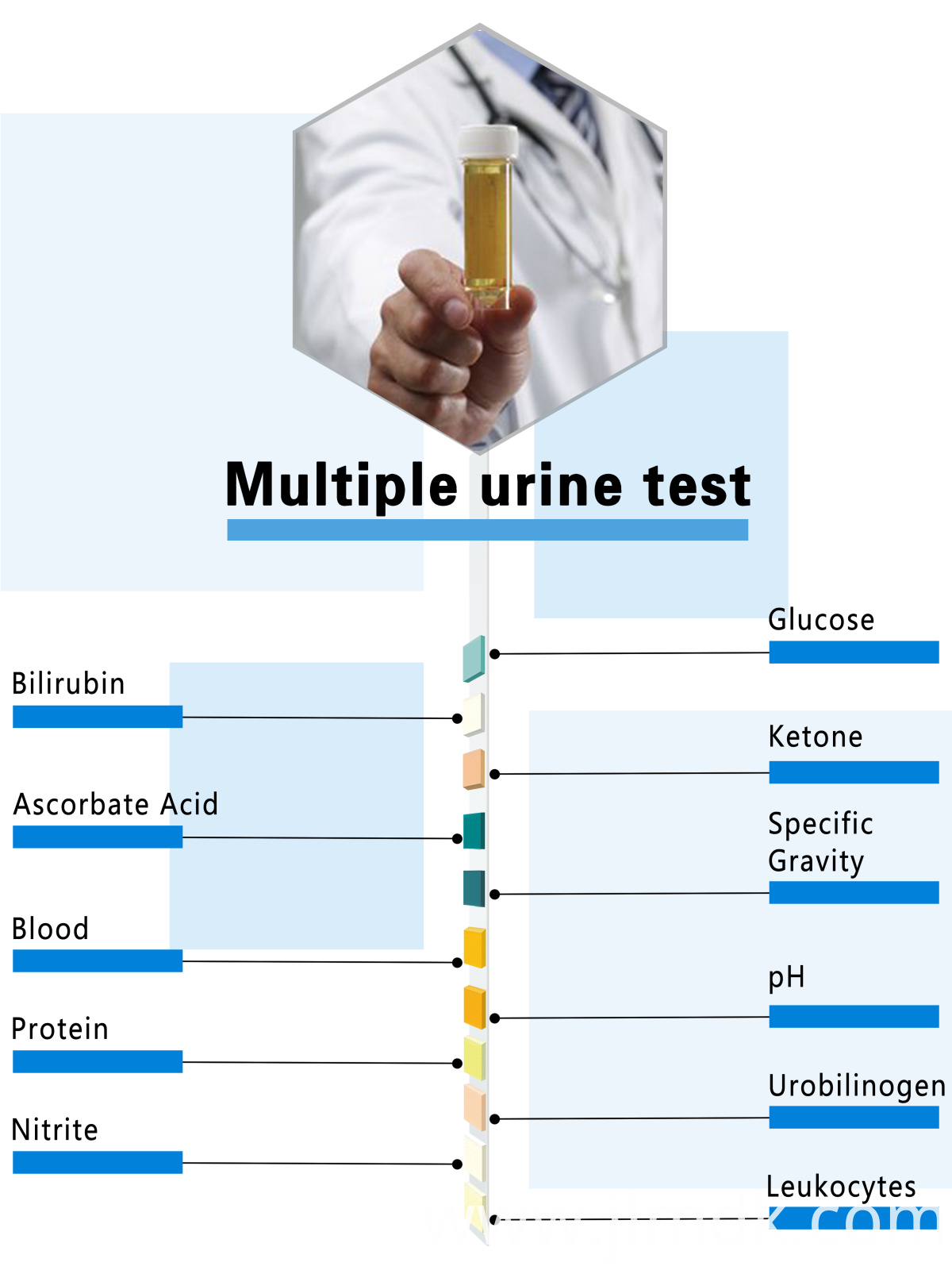 Product Details
Either accurately measure your 11 parameters urine routines levels in seconds and take the strips stay accurate until 60-90 days.
These are good for 2 years sealed.Once opened,they are best if used within 60-90 days.
Reaction Principle
Dry chemical strip
Procedure and Use
1.Collect a fresh urine sample in aclean,dry container preferably glass.First morning samples contain the highest concentration of target markers.
2.Remove one reagent strip from the bottle and immediately replace the container cap,minimizing the exposure of the remaining test strips to light and air.
3.Completely immerse the reagent pads of the strip in the urine sample and then remove immediately to avoid dissolving out the reagent pads.
4.While removing the reagent strip,run the edge of the strip against the rim of the specimen container to remove excess urine.Hold the containmation of chemicals located in adjacent reagent pads.
5.Compare the color change of reagent pads to the corresponding color chart on the bottle label.Read results according to the chart's time frame for each panel tested.
6.Record the results of your readings for discussion and/or evaluation with your physician or healthcare provider and then discard the used reagent strip.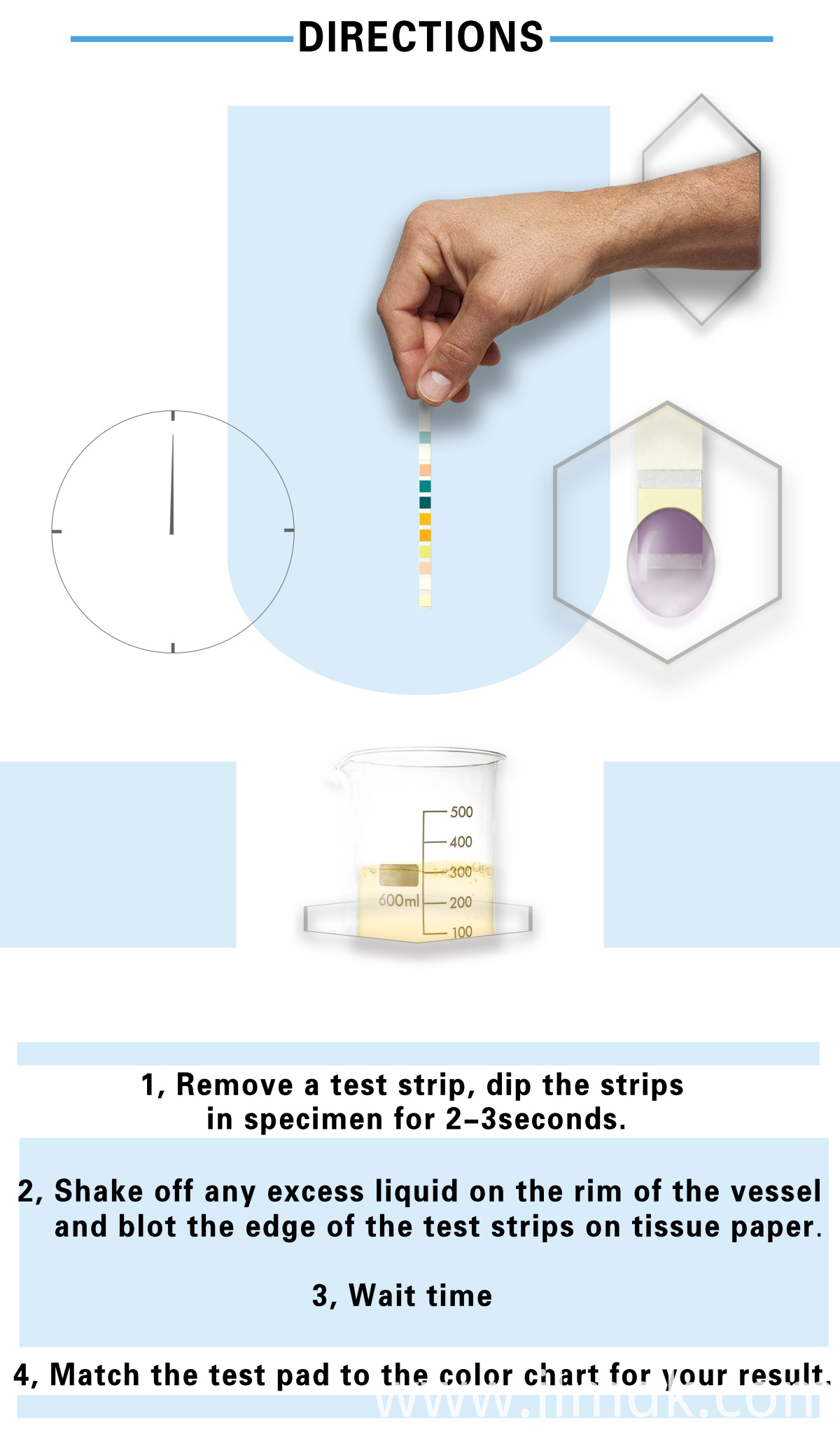 Packking & Delivery
Fast shipping Door to Door 3-5 days Arrive
By Express:Provide FBA USA,UK,Canada Amazon door to door service
DHL/FEDEX/UPS/TNT Doorto door
By Air:To airport/by air to door
By sea;To harbour or to door
Company Information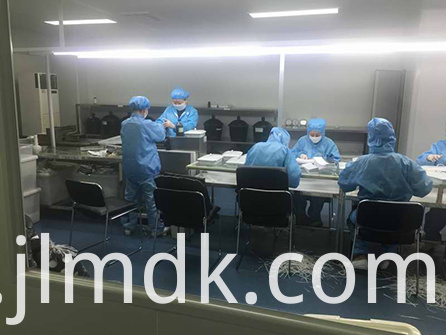 Shipping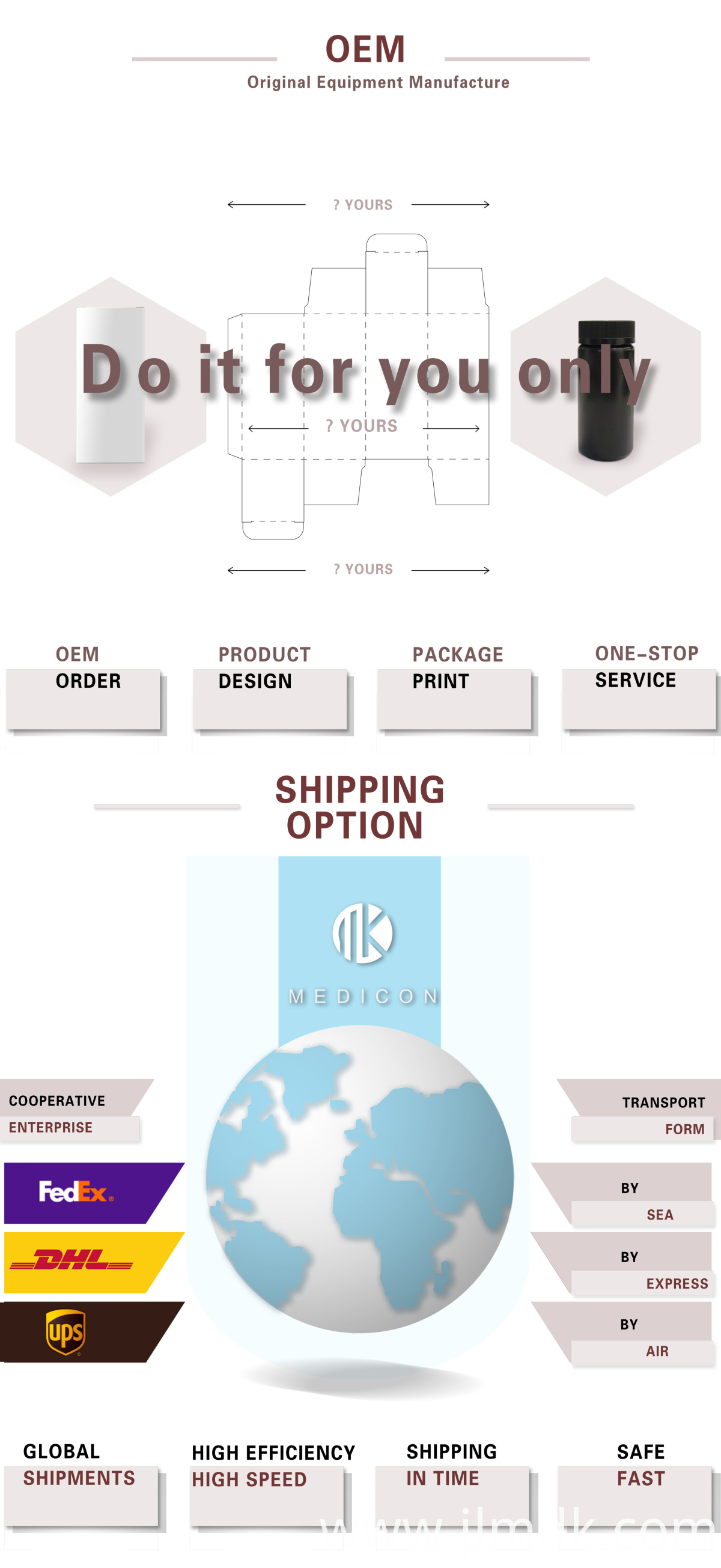 Looking for ideal Urine Dip Strips 11 Parameters Manufacturer & supplier ? We have a wide selection at great prices to help you get creative. All the Anti-VC High Sensitivity 11para are quality guaranteed. We are China Origin Factory of Reagent Strips For Lose Weight URS-11. If you have any question, please feel free to contact us.
Product Categories : Clinical Analytical Instruments > Urine Reagent Test Strips